Three Holiday Gift Ideas for a Spotless Season

The holiday season is upon us, and while it's a time of joy and celebration, it often brings with it a fair share of mess and clutter. If you're looking for the perfect gift to give or receive this year, why not go for something that makes life easier and your home cleaner? Spruce has the answer with three fantastic holiday gift ideas that will make your loved ones' homes sparkle and shine this gathering season.

Post-Party Cleanup with Spruce Premium Cleaning

Spruce Premium Cleaning offers a comprehensive one-time deep cleaning session for post-party chaos. This comprehensive service includes wiping down surfaces, sanitizing high-touch areas, cleaning floors, and hard-to-reach spots. With highly trained spruce agents, Spruce ensures every nook and cranny is thoroughly cleaned, and can be customized to cater to specific needs and requirements.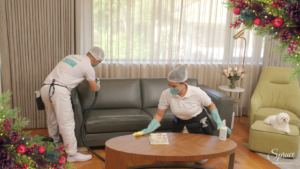 5-in-1 Upholstery Cleaning Service for pre-gathering freshness
Spruce's 5-in-1 Upholstery Cleaning Service offers a comprehensive solution for restoring the vibrancy of your furniture, including deep cleaning, stain removal, fabric protection, deodorization, and sanitization. This comprehensive service not only looks and feels clean but also creates a welcoming atmosphere for holiday gatherings, making your home holiday-ready.
Spruce Home: Plant-Based Disinfectant Sprays
Spruce Home offers Plant-Based Disinfectant Sprays as a practical and eco-friendly solution for maintaining a clean and disinfected home environment during the holiday season. These natural, non-toxic sprays effectively disinfect surfaces while being safe for family, pets, and the environment. Affordable and convenient, these sprays provide health and peace of mind.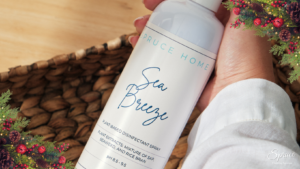 This holiday season, give the gift of a clean, fresh, and inviting home with Spruce Cleaning Services. Whether you choose the post-party cleanup, the 5-in-1 upholstery cleaning service, or the convenience of Spruce Home, your loved ones will appreciate the effort you put into making their holiday season special, hassle-free, and hygienic. Make this year's celebrations truly memorable with a cleaner and healthier living space, courtesy of Spruce.