The benefits of maintaining a clean kitchen
Many would say that the kitchen is the most challenging place to clean as it takes a lot of time. Nevertheless, seeing it spruced up is also the most satisfying feeling. More often than not, a little splatter of oil here and there, spills and waste go unnoticed. When neglected, germs and bacteria start to accumulate, causing them to spread across the whole area. Cleaning the kitchen is essential. It is the space where food is stored, prepared, and done. Dining tables, countertops, cabinets, and sinks are widely used. In order to avoid a mess from happening, cleaning it regularly is the best option to practice.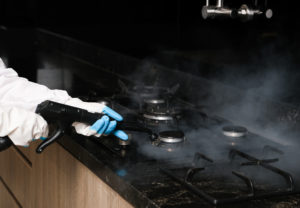 The kitchen can be a place where families bond and cook meals. Imagine having a clean and organized kitchen where you can prepare healthy meals and walk without tripping over the clutter. You can move quickly without worrying about an accident. Let's face it, keeping your house tidy can be difficult. Everyone wants a pleasant place to relax and enjoy. Well, that can be done! You can apply daily cleaning tips to keep any space in your home clean. Let's take a look at how it is done in the kitchen, shall we?
Here are the must-know kitchen cleaning tips to keep it clean and safe every time:
Clean as you go as

this will help prevent dirt, bacteria, and allergens from spreading onto other foods from the surface.

Keep your disposal smelling fresh by sprinkling baking soda at the bottom of your trash to avoid odor

.

Clean the microwave and cutting boards using a lemon.

This will effectively loosen the built-up gunk in the microwave so you can easily wipe it off with a clean, damp cloth.

Clean glass stains with vinegar. T

his is non-toxic and can be used to clean many surfaces in your home—including watermarks on glass. Plain white distilled vinegar is ideal for cleaning.

Clean your kitchen curtains because they attract

dust and absorb odours. So if you want to keep your house clean, bright and smelling fresh, it's important to wash them regularly. 

Wipe the hood above your stove.

If it's uncleaned, this can create smoke blockage due to the greasy stainless steel filters. The greasy range hood can also cause a smelly environment in your cooking area.

Wipe off your cabinets and dust off all of your counters.

Experts advise that you do regular maintenance and cleaning of your kitchen cabinets every 3 to 5 months, though you should wipe away cooking residues, food smudges, and other stains from the cabinet surface or faces every week.

Allow kitchen towels to air dry. It's important to let your kitchen towels air-dry before dumping them into the washing machine to prevent the growth and spread of mold and mildew. This step is as easy as hanging the towels on a hook or laying them flat on the counter before actually washing them.

Clean your dish rack and organize whatever you have stored under the sink to prevent bacteria and mold.
Spruce Cleaning Services offers more than that. You can inquire about your specific needs and get a free ocular inspection from us to see what we can do to make your space more comfortable and clean as it is. 
Search and follow us through our social media accounts: @sprucleaningservicesph on Facebook and @sprucecleaningservices on Instagram. For more details, contact us at: +63 917 883 0077 (Globe) and (02) 8716 9202 (Landline).