Celebrating Milestones and Festivities

As we step into the final months of 2023, Spruce Cleaning Services is thrilled to share the highlights of our recent events that not only brought our team closer but also sparked joy and creativity among our team.
A Spooktacular Halloween Celebration
Our 2nd annual Halloween event, held on October 27, 2023, was nothing short of spectacular. The office transformed into a realm of spooky surprises and creative costumes, showcasing the imaginative spirit of our team. The event's pinnacle was the much-anticipated costume competition, where creativity and fun took center stage.
Juanito Sabado, with his eye-catching costume, known as "Engkanto" in Filipino folklore, bagged the title of "Best in Costume," leaving everyone in awe. While Cynthia Caballero and Carlota Gutierrez clinched the 1st and 2nd runner-up positions, respectively, with their impressively crafted outfits. The event was not just a display of costumes but a testament to the creativity and enthusiasm that our team members bring to Spruce.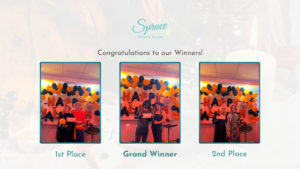 First-Ever Team Building
In an exciting first for our company, we hosted our inaugural Team Building event at the Quest Adventure Camp. The event was a resounding success, marked by spirited competition and camaraderie. Our staff was divided into three dynamic teams – Black, Green, and Blue—each bringing their unique energy and strategy to the fore.
The Blue Team, under the leadership of Harly Batuigas, won as a result of the friendly yet competitive atmosphere. This win was a result of their exceptional teamwork, strategic planning, and unbreakable determination. The event was not just about winning but also about forging stronger bonds, understanding each other's strengths, and working collaboratively towards common goals.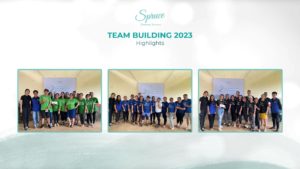 Celebrating Two Years of Growth and Success
Amidst the excitement of the team-building event, we also celebrated a significant milestone – our 2nd Year Anniversary. This dual celebration was a moment to reflect on our journey, the challenges we've overcome, and the successes we've achieved. It was a heartwarming reminder of how far we've come as a team and a company.
As we celebrated, we shared stories of our humble beginnings, acknowledged our collective achievements, and looked forward to the future with renewed enthusiasm and commitment.
As Spruce Cleaning Services continues to grow and evolve, these shared experiences remain pivotal in strengthening our bond as a team and enhancing our service to our valued clients. Stay tuned for more updates and exciting events as we continue this incredible journey together!
Check out our YouTube links below and see the fun behind our events!
https://tinyurl.com/SpruceTeamBuilding
https://tinyurl.com/SpruceHalloween